The day before yesterday, the 70th Golden Globe Awards honouring the best in film and television of 2012, took place in Beverly Hills. You can read all about the nominees and winners on the internet, but I was more interested in the beautiful dresses some actresses were wearing. And, well, some not-so-beautiful also.
The first one I really like is
Kristen Bell
. Her being pregnant didn't stop her from wearing a beautiful shiny gown (by Jenny Packham) . Everything fits, including the make up and hairstyle.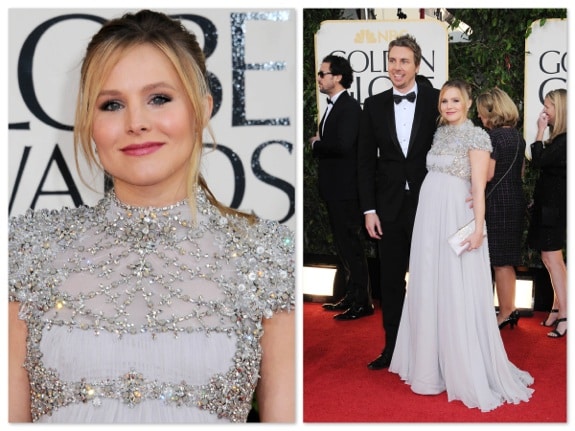 Taylor Swift
. She was gorgeous. I don't normally like her flowery dresses, but this is something completely different. I love the style of this dress (by Donna Karan Atelier). It has just the right amount of "different", yet it manages to stay sophisticated with the bare back and all. Plus, I adore the colour! And the hair matches the dress. She should show her face more and stop hiding behind that hair.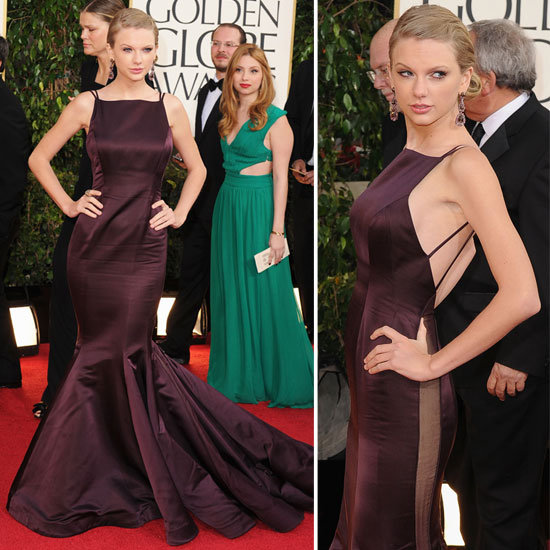 Do you remember her? She's an actress from Downton Abbey and her name is
Michelle Dockery
. Her dress is tight fitting and very romantic (by Alexandre Vauthier), but I love it. The colour suits her well and it's something unexpected among all the evening gowns. Thumbs up.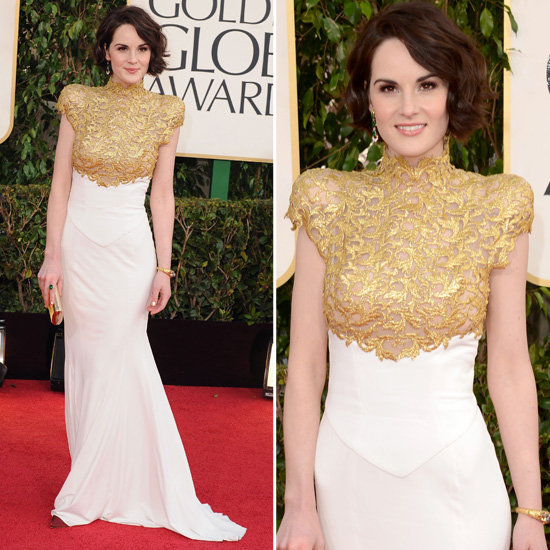 Wow! Such a gorgeous dress (by Monique Lhullier), but I've never heard of
Julianne Hough
, who was wearing it before today though. Wikipedia said she's a professional ballroom dancer, country music singer and actress. Right now, I'm wondering what's with me and white-gold combination in dresses because I would never wear it myself (I don't like wearing white, because I'm clumsy and I would surely stain it and I prefer silver to gold), but it looks so adorable on other people.
And now, for the worst...
An absolute winner in this category is Lena Dunham, for sure. Do I even need to comment? She looks great in the face, I give her that. But the body is just plain weird. The proportions are off and I don't think she can afford to wear such dresses with her figure. She would probably look so much better in some other design.
Don't you agree that something went terribly wrong with Heidi Klum's shoulder pad? Besides that, this dress is just too worn out and "the leg" has been seen so many times it got boring. Plus, I don't appreciate the pointed shoes.
Why is Mayim Bialik from Big Bang Theory wearing a sparkly table cloth I will never know. Her face looks pretty, though. Some good work by the make up artists there.
Last but not least, Halle Berry with a cute dress, but totally inappropriate for the event. Too many cut outs, not the best choice of colour and weird prints make her drop to the poorly dressed bunch.
What do you think about these dresses? Do you also have your worst and your favourite?
The opinions in this blog have all been written according to my personal taste.
Sources: www.growingyourbaby.com, www.fabsugar.com, www.zimbio.com, en.wikipedia.org, www.nydailynews.com, movies.yahoo.com, www.popsugar.com